HISTORY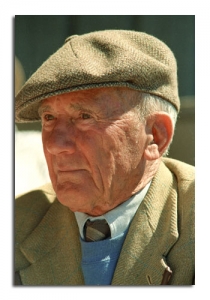 Dr. David NF Leake OAM - 1907 - 2006
While the Leake name is synonomous with the origins of the Poll Hereford Society in this country, family tradition dictated that the elder sons carry on the predecessors directions, while younger sons are directed to areas their fathers may liked to have followed. Such was the case in this family, where Louis, the cattleman, carried on the family tradition and baby brother David was directed to medicine. The rest as they say is history where younger brother David, returning from the mandatory medical sojourn in "the mother country" having visited the "country side" at every available opportunity where exposure to the wonderful "white faced cattle" was sort, set about developing a passion for 'Herefords Without Horns' with the purchase of his first Hereford cow in 1931.
David's early cattle were recorded with brother Louis and the first bull bred by David was Cudgeena Masher, selling in 1936 and travelling from the Upper Murray to the Queensland boarder to become the founding Poll sire of the Merawah herd.
The Bahreenah prefix was recorded with the Society in 1934 and the cattle continued to be run in conjunction until 1949. David, having returned from more than four years confinement in Germany during WW II spent an intensive 12 months in further medical studies in Sydney before being advised there were openings for ENT specialists in Tamworth or Toowoomba. Tamworth was chosen as there was already a medical colleague with an affinity for 'White Faced Cattle' in the region and so began the search to find a permanent home for the Bahreenah herd.
David Leake bred his cattle on paper – Pedigrees fascinated him and the challenge of blending genetics to create the perfect animal became his passion and no doubt was the one thing that helped to maintain his sanity while in Germany. After settling near Tamworth, David was able to devote serious time to his passion and enjoyed considerable success in both the show and sale rings. On property sales were introduced in 1967 with Bahreenah females becoming foundation females for many successful studs, selling to every Australian state and overseas.
A commercial decision was made to cease showing at Sydney in the early 1990's as a generational transition was evolving with the stud taking a more commercial focus. Bahreenah continues to market some bulls at the Glen Innes multi vendor bull sale as well as privately while a long term approach has been to produce beef off grass utilizing structurally sound, functional mothers. Due to size constraints the steer portion can be sold at weaning or ideally to the feedlot, allowing for carcase feedback and making available more grass for the Cows.
Both natural service and AI are utilised in the breeding programme with the majority of the herd calving for 6 to 8 weeks from mid July. All heifers are joined for 6 weeks to calve from mid July and are usually integrated straight into the cow herd. The calving cows are checked daily with calves weighed and tattooed and usually drifted to another paddock with calving problems almost unheard of at Bahreenah. Horses still form an integral part of Bahreenah's management as do Border Collies and we pride ourselves on the temperament of our cattle.
Emphasis in the 21st century puts temperament at the top of the list – without this the important attributes of growing beef are not as readily attainable. Structure and fertility have always been of prime importance while milk needs to be carefully managed. Bahreenah has always had good milking females who sometimes have feed their claves too well to their own detriment and not gone back in calf. The last dry decades have helped to eliminate these problems and highlighted the importance of moderation. While international genetics have been utilised through AI the aim has been to blend the attributes to suit the Australian grass based environment recognising that irrigated pastures are not available to all meat producers so our cattle need the ability to convert grass to beef readily.
Performance recording has always been a management tool and IGF-1 technology had been embraced to assess our herds' conversion efficiencies'.
A commercial decision was made in 2005 to relocate the Bahreenah stud herd to a larger property in the hope of being able to increase breeding numbers and produce more beef off grass. The goal for the new location, when hopefully seasons return to a more reliable pattern is to increase high performance pastures and utilise these efficiently to grow more beef.